---
Praline yams have been a family favorite for many years. It was my grandmother who started making it. My Mom passed the recipe on to me. It was a dish that began in the family after I left home. We had it together at family dinners and the recipe has been passed around the family. Most delightfully, it made it into an adorable family cookbook that my niece, Shelby, wrote and illustrated herself while in sixth grade for a school project. The year on the book is 2005-2006. That was only the beginning of Shelby's talents. She also sings, writes songs, and plays multiple instruments very well.
I will share the original recipe that came from the label on the can of yams. The recipe and method has evolved over the years to include apples. My talented sister, Naomi, has been instrumental in making this food so fabulously delicious. Years ago, Naomi pureed the yams and apples together and we agreed that is so much better. It seems to allow more of the yummy praline topping on each bite.
Praline yams and apples go very well with a ham dinner, as well as other pork dishes. Tyana is very disappointed if we do not have it with ham. We spent time on the phone together going over the instructions for her to make today for a family dinner in Colorado.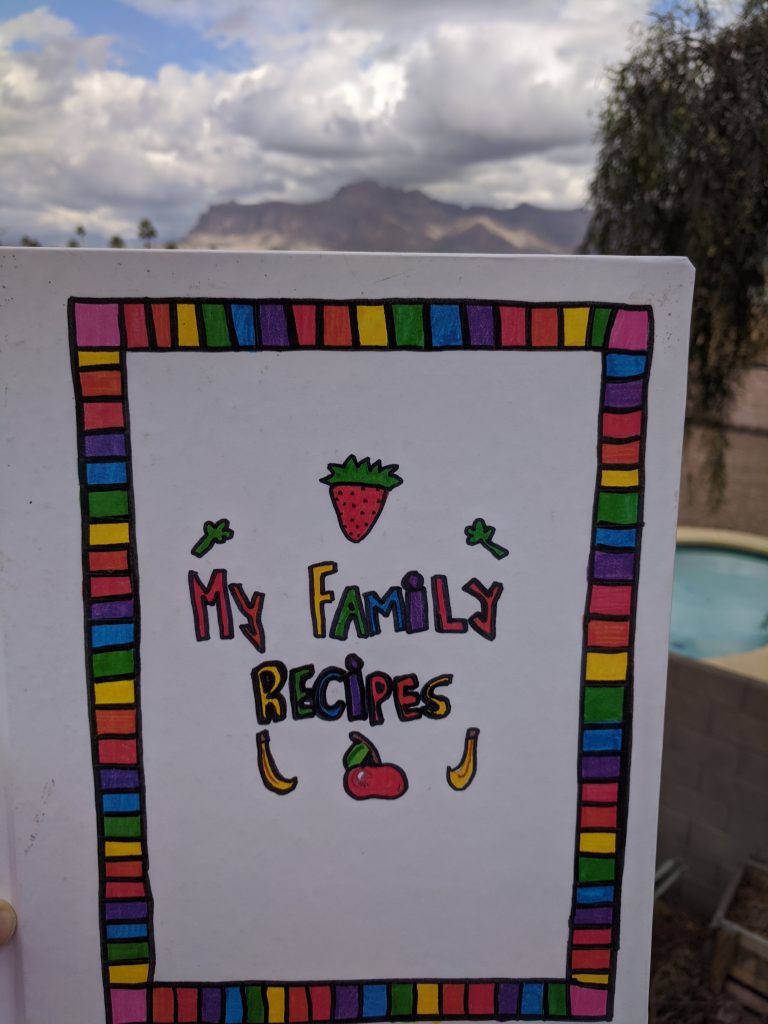 PRALINE YAMS
29 ounce can cut yams, drained
1/3 cup coconut
3 tablespoons flour
1/3 cup pecans, chopped
1/3 cup brown sugar, firmly packed
3 tablespoons butter, melted
Preheat oven to 350° F. Place yams in an ungreased baking dish. Combine remaining ingredients in a mixing bowl and blend well. Sprinkle topping over yams. Bake until topping is golden brown, about 30-40 minutes. Serve warm.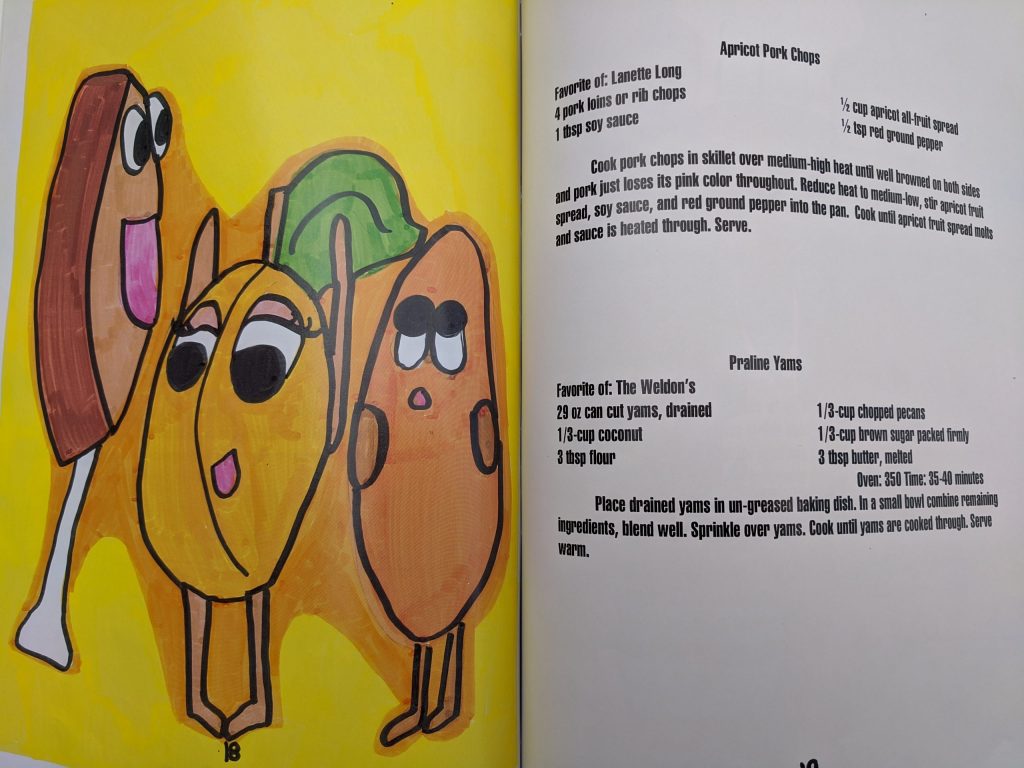 PRALINE YAMS AND APPLES
So, that was the original recipe. From there we have adapted and added to it and we prefer the pureed version now. The recipe is very flexible and can be adapted to sugar-free and gluten-free as well. I have even made it into a sweet potato pie with the praline topping. If you are baking something else in the oven at a different temperature, simply adjust how long this bakes, as long as it is not too high of heat.
The simplest way to make yams and apples is to use canned yams and peeled, cored, and diced apples. Put the canned yams and apple pieces in a baking dish, sprinkle with spices and a little brown sugar and top with the praline streusel, then bake at 350° F for 20 to 40 minutes.
I do not have exact measurements because I always do it a little different each time, depending on how many yams and apples are on hand. If I do not have apples available, I add applesauce and apple juice concentrate to the pureed yams. When I am trying to get the flavor right, I find when I come to the point that I don't want to stop eating it, that is when it is seasoned just right. Cinnamon, nutmeg, ginger, and allspice are very good in the yam mixture. Sweetener is optional, depending on your taste. Apple juice concentrate, boiled apple cider, and a little honey are enough sweetening for me, but brown sugar or raw sugar taste good too.
Fresh yams are best, but canned yams are acceptable. Choose your method of cooking the yams; peeled, chopped, and boiled; baked whole in the oven; or peeled, chopped and roasted in the oven. While the yams are cooking, core, peel, and chop the apples. The amount of apples used depends on how many you have and your taste. Use from half as much to equal the amount of yams, then choose a cooking method for the apples, baked in the oven or sautéed in a skillet with butter. I usually spice the apples before cooking and add a little apple juice concentrate if baking in the oven.
Once the apples and yams are fully cooked, puree or mash them together in a large heat-proof mixing bowl. Add apple juice concentrate, boiled cider, applesauce, honey, or sugar if desired. An immersion hand blender works but does take some effort when it is a large batch. Once it is blended together, taste and season with salt and spices until it is delicious. Put it in a shallow baking dish. It can be a little guesswork on what size dish, but if you choose one that is too small, just put the rest in another baking dish. This works well in individual-sized dishes too. The yams should come halfway to two-thirds of the way to the top of the dish so that enough room is allowed for the praline topping.
For the praline topping, I triple the recipe at the very least. Don't worry about having too much topping because any extra may be frozen for another time. I put as much as I can fit on the yams. You want the yams to be at least covered with the topping in the dish, but not so thick that the topping doesn't cook nicely underneath. Do not overfill the baking dish.
Sprinkle or scoop the topping onto the yams in the baking dish. Bake at 350° F. for 20 to 40 minutes, or until the top is golden brown and crispy. Let cool 10-20 minutes as the yams stay very hot because the topping seems to insulate it.
I have made the topping gluten-free and sugar-free but do not have a recipe for it yet. Each time I have made it a little differently. Sometimes I use oats in place of the flour and last time I used a gluten-free flour blend. Honey is a good substitute for the brown sugar, but use half as much since honey is twice as sweet as sugar. Whenever I try to write down a recipe for what I am doing, it does not turn out as well as when I just focus on the food. I keep making adjustments until it tastes and look right. Tyana used to get frustrated when I was teaching her to cook because I would say "when it looks right" and she didn't know what that meant. With practice and experience, now she understands what I mean when I say that.
This will most likely turn out delicious however you make it. Have confidence that you can do it with a general idea instead of exact measurements. You will learn as you go and can make adjustments the next time if there is anything you would like to taste differently.