---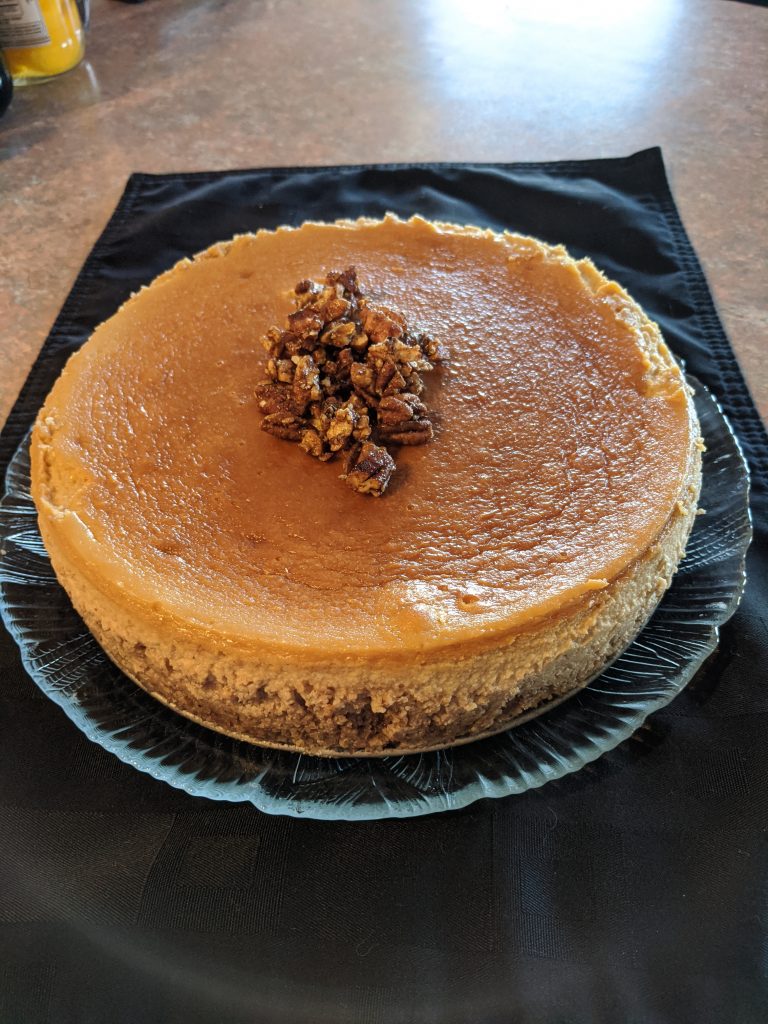 I am so excited by this smooth, creamy, delicious cheesecake! There is nothing missing with it being gluten-free and sugar-free. The light and creamy texture is a result of combining homemade mascarpone and cream cheeses. The pure, very dark maple syrup along with a little maple flavoring bring an incredible and perfect flavor. Use the darkest maple syrup you have available. If you only have light maple syrup, double the maple extract for more flavor.
The crust is made with toasted oats and pecans along with maple sugar. I happen to have the sugar for the first time because I wanted to try it out when I ordered maple syrup from a small maple farm in Pennsylvania. Maple syrup or honey may be substituted if you do not have maple sugar, but use less butter to make up for the additional liquid. Or, add more flour until the consistency is not too wet. It is fine to use regular flour and brown sugar if one is not avoiding gluten and sugar.
Mascarpone cheese is amazingly easy and inexpensive to make at home. The easiest method I have found is to make a crème fraîche then drain it in cheesecloth overnight in the refrigerator. Mascarpone tends to break down if whipped at room temperature, so keep it chilled until mixing the batter. It really does whip smoothly even when cold, unlike cream cheese. While I highly recommend the mascarpone, you may use two pounds of cream cheese if you really must. But, increase the heavy cream to one-half cup because cream cheese is a little thicker than mascarpone.
This may be gently baked with or without a water bath. The texture is slightly creamier baked in a water bath, but the crust can get a little soggy. Either way, this will be fantastic. Slow, gentle heat is key to baking, as well as a gentle cooling period. Many recipes instruct to leave the cheesecake in the oven (off) to cool down a couple hours before removing. Then leave at room temperature until completely cooled before refrigerating overnight. I put a thin dishtowel over the cheesecake when I put it in the fridge the first night.
OAT PECAN CRUST
1 1/2 cups oats
1 cup pecans
1/4 cup gluten-free flour blend
1/3 cup maple sugar
1 teaspoon ground cinnamon
1/4 teaspoon salt
5 tablespoons butter, melted
Toast the oats and pecans on a baking sheet for about ten minutes at 375°F. or until golden and the aroma fills the room. Let cool, then blend in a food processor until finely ground. Add gluten-free flour, maple sugar, cinnamon, and salt to the food processor bowl. Pulse to combine. With machine running on low, pour in melted butter. When combined, press onto bottom and sides of a greased 9 x 3-inch springform pan. Bake for 10-15 minutes at 375°F. or until golden. Allow to cool before adding cheesecake filling. May be made a day ahead.
MAPLE CHEESECAKE
16 ounces mascarpone cheese, cold
16 ounces cream cheese, softened to about 65°F.
4 eggs, room temperature
1 cup dark or very dark pure maple syrup
1/4 – 1/2 teaspoon maple extract
1 teaspoon vanilla extract
1/3 cup heavy cream
In the bowl of a stand mixer, blend mascarpone cheese until smooth and soft. Add cream cheese and blend until smooth, but not light and airy. Blend in maple syrup. Add eggs, one at a time, blending well after each addition. Mix in maple and vanilla extracts and heavy cream until combined. Scrape sides of bowl frequently, after blending cheeses, syrup, and each egg, and after final additions.
To bake in a water bath, wrap the pan in a double layer of aluminum foil. Pour filling into cooled crust-lined pan and bake at 300° if not using a water bath, or 325°F with a water bath. For a water bath, set foil-lined pan in a large roasting pan, set on center rack and carefully pour boiling water in roasting pan to a depth of one inch up the sides of the springform pan. Bake until center is jiggly but edges are set, 90-120 minutes. The temperature should be 170°F about one inch from the edge. Turn oven off and allow cheesecake to rest inside for about one hour. Remove and cool completely on a wire rack. Then, cover with a towel or plastic wrap and refrigerate 8 hours or overnight.
Serve with Maple Spiced Pecans. Keep leftover cheesecake refrigerated for up to five days.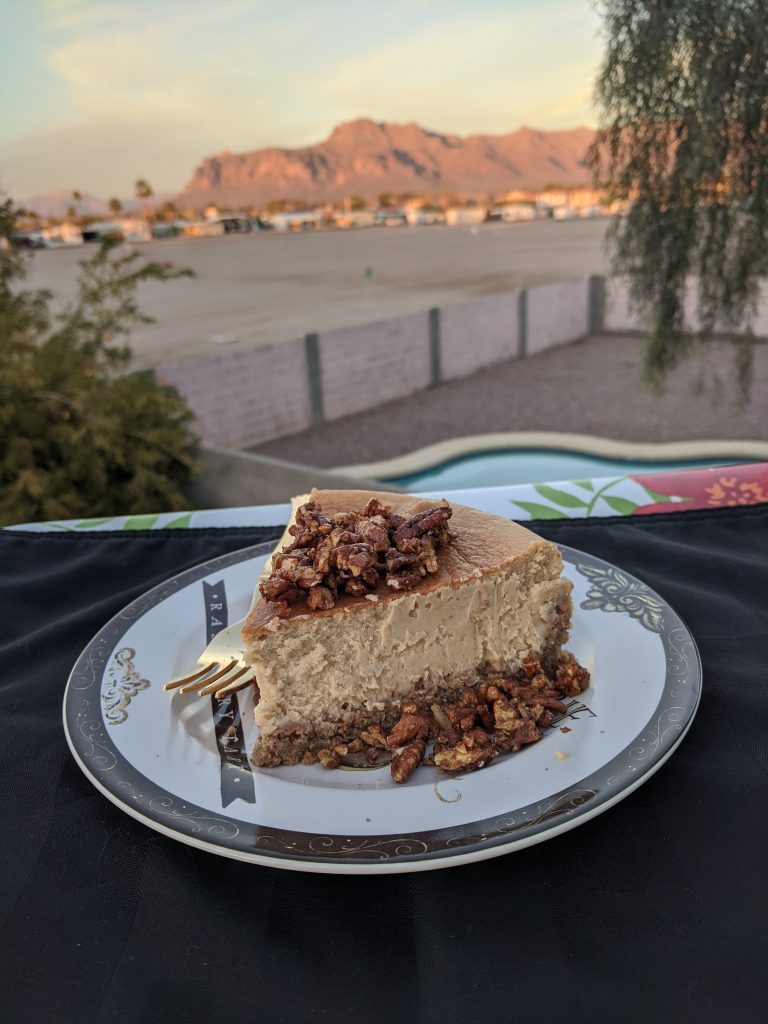 Marvelous Maple Pecan Cheesecake