---
On my last visit to see my adorable one-and-a-half-year-old grandson Declan, my daughter Tyana wanted to make Green Fluffy Stuff for me. She made it on the day I was leaving, so I took some with me for the two-hour drive to the airport. Now I have a bittersweet memory of eating it in the vehicle sitting in the backseat next to Declan. It was delicious and I was happy to have had time with Declan and his parents, and I was sad to be leaving, not knowing when I would see my precious little family again. I fed bites to Declan before he fell asleep on the drive and he woke up as we arrived at the airport to drop me off. He understood the sadness of taking me to the airport and we both cried saying goodbye. I miss him so much and long to feel his hugs and hear him knocking on the bedroom door and calling "Nana" every morning. I miss his sweet smiles and bright blue eyes and mischievous look before throwing his food or toys.
Tyana gave me the recipe she got from her mother-in-law and I adapted it slightly. Instead of Cool Whip we prefer real whipped cream. I used plain Greek yogurt and sweetened the whipped cream and added vanilla and almond extracts to it. It turned out delicious and not overly sweet or artificial-tasting. We had a family dinner last night and almost all of it was eaten but I managed to save a little to eat today. I think coconut would be delicious added to it.
WATERGATE SALAD
1 20-ounce can crushed pineapple in juice, undrained
1 3.4-ounce package instant pistachio pudding
1 1/2 cups Greek yogurt, plain or vanilla
2 cups whipped cream, lightly sweetened with vanilla and/or almond extract
1/2 cup pecans, finely chopped, optional
1 cup mini marshmallows, optional
1/2 cup coconut, flakes or shredded, optional
In a large bowl, mix together the crushed pineapple with the pudding mix and then stir in the yogurt. Fold in the whipped cream and then add any optional ingredients. Refrigerate at least an hour or two if you can wait. It will thicken as it chills. The chopped pecans and/or coconut may be sprinkled on the top instead of stirred in.
I don't know how long it lasts because we ate it too fast to find out.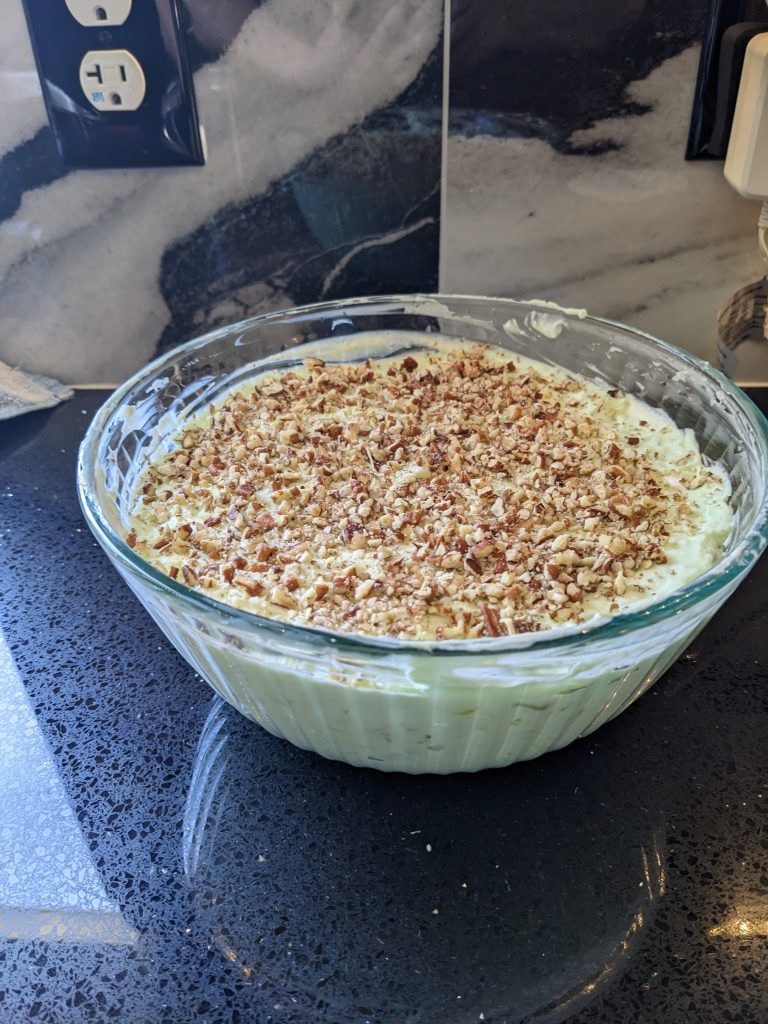 Green Fluffy Stuff/Watergate Salad