---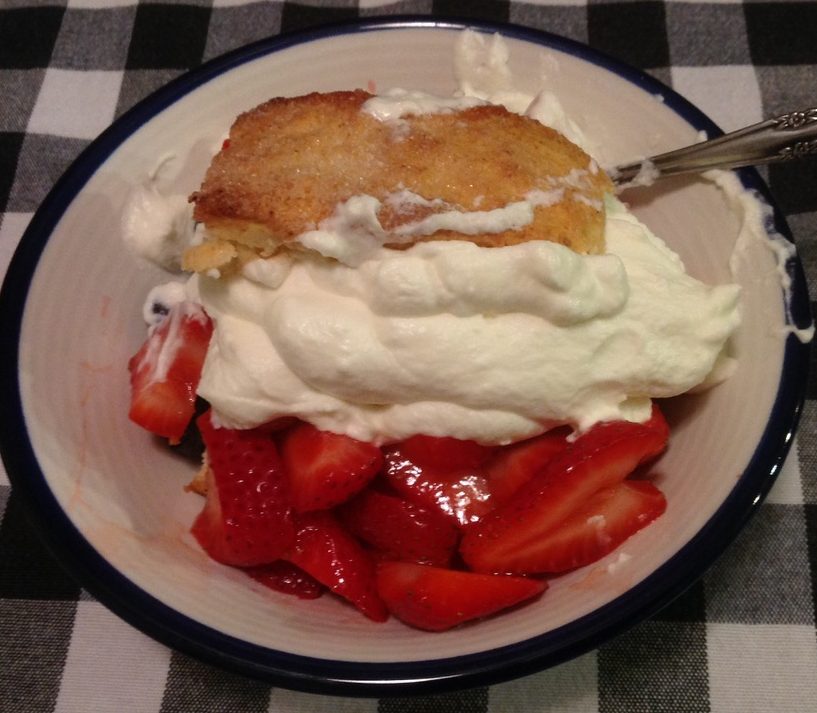 Strawberry shortcake is a beloved dessert, but these shortcakes take it over the top! Strawberries are already delicious eaten with a little sugar and cream. Try this shortcake and you will never be satisfied with any other. It is basically a cream biscuit slightly sweetened with a hint of orange. You will want to eat the shortcakes plain they are so yummy.
I love the memory of the first time Clayton had my strawberry shortcake. He had only eaten those fake spongecakes and fake strawberry sauce you can buy near the strawberries. So, he thought it was a disgusting dessert. It was fun to tease him that he would not want what we were having. He quickly changed his mind when he saw it and tasted it.
Try the shortcakes with other fruits. Peaches are delicious, or mix with fresh berries.
The recipe is from Farmhouse Cookbook by Susan Herrmann Loomis.
SHORTCAKE
3 tablespoons sugar
1 cup all-purpose flour
7/8 cup cake flour (see note)
1/2 teaspoon salt
2 1/2 teaspoons baking powder
minced zest of one orange (or a few drops of pure orange oil)
6 tablespoons unsalted butter, chilled
1 cup heavy cream
1 tablespoon sugar, reserved for tops
Preheat oven to 425° F. Line baking sheet with parchment paper.
In a large bowl, combine the dry ingredients. Cut in the chilled butter until the largest pieces are the size of peas. Add cream all at once and lightly mix until dough starts to come together. Turn dough out onto a well-floured surface, such as a large cutting board. Knead briefly until dough has all come together. (Add more cream if the dough is too dry.) Roll or pat out into a rectangle about 1/2 inch thick. Cut into 8 – 10 rectangles. Allow 1/4 inch between pieces on the baking sheet. Sprinkle with 1 tablespoon sugar. Bake in the center of oven until golden brown, about 12 minutes. Slide parchment paper off pan and onto a wire cooling rack to cool.
NOTE: Substitute for cake flour – 7/8 cup of all-purpose flour sifted with 1/8 cup of cornstarch. Remove 2 tablespoons and use for cake flour in this recipe.
STRAWBERRY SHORTCAKE
Gently wash, stem and slice 4 pints of fresh strawberries. Toss with 2 tablespoons sugar in a bowl. Chill 30 minutes to one hour. Split each shortcake in half and spoon sliced strawberries over the bottom half. Top with other half and dollop plenty of lightly sweetened whipped cream on top of all. Serve immediately.
Stupendous Strawberry Shortcake