---
Chocolate cake should have been my first post, instead of my 75th. The reason it should have been first is because I am sure the most people have had my chocolate cake over everything else I have baked. I have made this cake as the building block for wedding cakes, anniversary cakes, graduations cakes, baby shower cakes, as well as dessert for gatherings of all sizes. Literally hundreds of people have eaten it.
Now I give away my secret: This is the easiest possible cake to make. Much easier than a box mix. Anyone who can hold a spoon can make this recipe. There is no need for a mixer. No eggs and no butter, so no worry about getting the batter creamed just so. And, I have never found a chocolate cake as moist and delicious as this one. Because it is an oil-based cake, it is fantastic at room temperature, cold or even frozen, such as for ice cream cakes or Baked Alaska.
This cake is so amazing served plain with just a chocolate glaze or it can be dressed up in unlimited ways. The fillings and flavors I have used with it are many. Black Forest Cake, with cherry filling, whipped cream and chocolate shavings is one choice. For a wedding, I filled it with a German Chocolate classic of caramel-y coconut and pecans. Strawberry mousse, mandarin orange mousse, mocha mousse, chocolate strawberry ganache, cherry mousse, mint mousse, and chocolate coconut are some of the fillings I have paired with this cake. The most notable filling is hazelnut mocha mousse (think Nutella). There is something about that filling that just makes the most beautiful symphony with chocolate cake. I made chocolate hazelnut for my daughter's wedding, along with chocolate strawberry, as well as carrot cake. Then there is Brooklyn Blackout Cake made with dark chocolate pudding for a filling.
Fillings and frostings will be another post. I did not use a recipe for many of the mousse fillings. It is a shame that I did not keep track of exactly how I made them, because I end up forgetting and then have to figure it out each time I make it. I get so busy during cake projects that I do not take the time to write it down. Sometimes I have made notes but I lose the paper eventually.
This is a versatile recipe. It can be made in a 9 x 13-inch pan for a simple cake left in the pan and topped with chocolate ganache. For a layer cake, use two 8 or 9-inch round pans, or even three 8-inch pans. It makes 24 cupcakes or probably 36 – 48 mini cupcakes.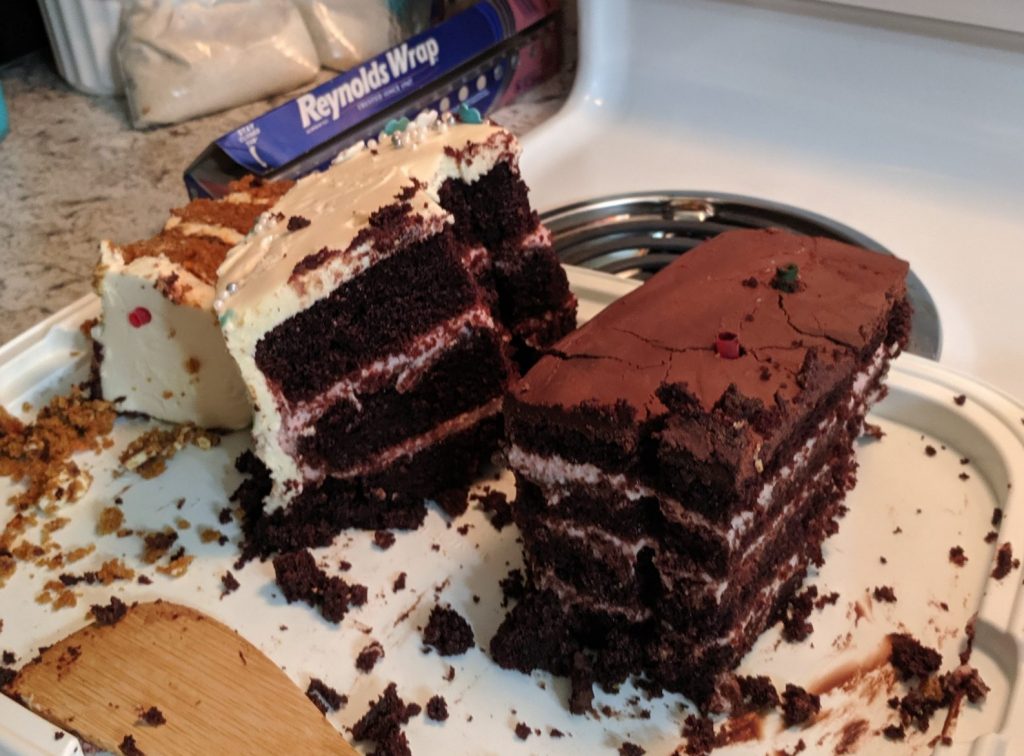 CHOCOLATE CAKE
3 cups all-purpose flour
2 cups granulated sugar
1/2 cup unsweetened cocoa powder
2 teaspoons baking soda
1 teaspoon salt
2 cups hot water
3/4 cup vegetable oil
2 tablespoons white vinegar
1 tablespoon instant coffee granules
1 tablespoon vanilla extract
Preheat oven to 350° F. with rack in the center. Spray two 8-inch round cake pans with nonstick spray or line with parchment paper.
Whisk dry ingredients together in a large mixing bowl.
Combine water, oil, vinegar, instant coffee, and vanilla in a large measuring cup. Add to the dry ingredients and whisk just until combined – a few lumps are fine.
Divide the batter among the pans (3 cups in each of two round pans), then bake until toothpick inserted in center comes out clean, 30-40 minutes. (Check after 20 minutes.) Cool cakes for 15 minutes on a rack, then invert them onto the rack. Leave cakes upside down to cool completely (this flattens domed cakes). Frost or glaze when completely cooled. For a cold filling or glaze, refrigerate well wrapped layers and fill when thoroughly chilled.
For a 9 x 13 -inch pan, leave in pan to cool completely, then frost. Makes 24 cupcakes – remove from muffin tins to cool.
To freeze cake layers or leftovers, first wrap tightly with plastic wrap and put in a large zip-close freezer bag.
SMALLER RECIPE CHOCOLATE CAKE
2 cups all-purpose flour
1 1/3 cups sugar
1/3 cup cocoa powder
1 teaspoon baking soda
1/2 teaspoon salt
1 1/3 cups hot water
1/2 cup vegetable oil
4 teaspoons distilled white vinegar
2 teaspoons instant coffee granules
2 teaspoons vanilla extract
Follow the directions for above recipe. This recipe makes about a third less than the first recipe, but still works for two 8-inch cake pan [about 2 1/4 cups batter in each pan]. Or, it makes about 16 cupcakes. Bake round pans for about 25 minutes. I double this recipe for making a 12-inch round cake and bake longer.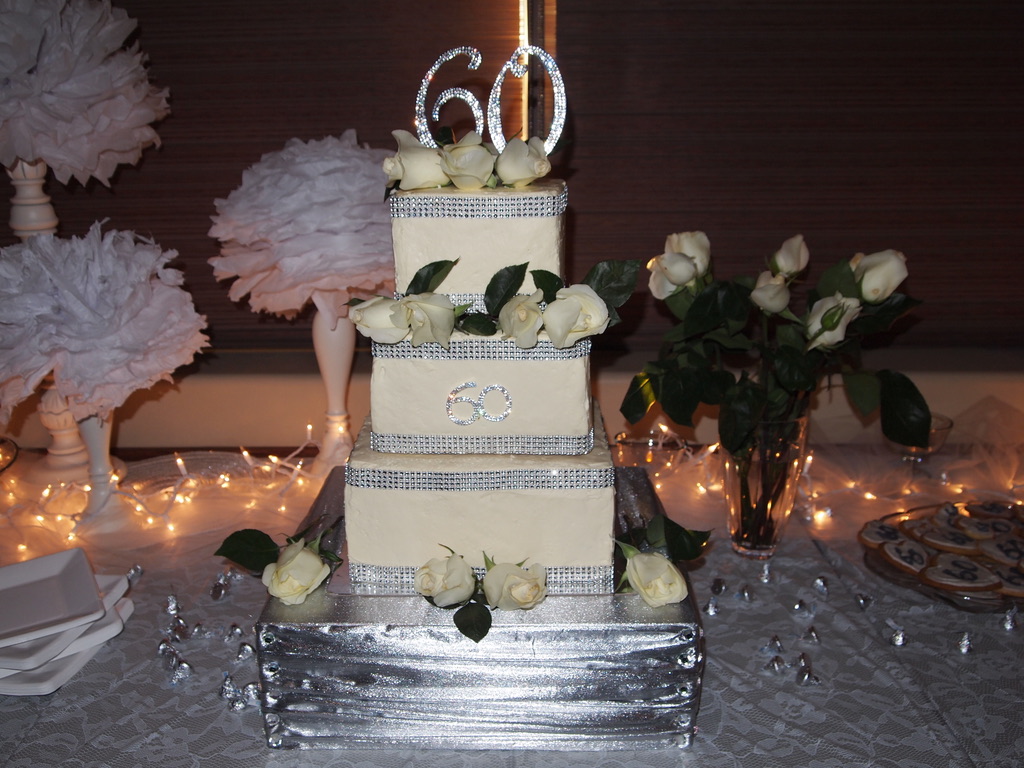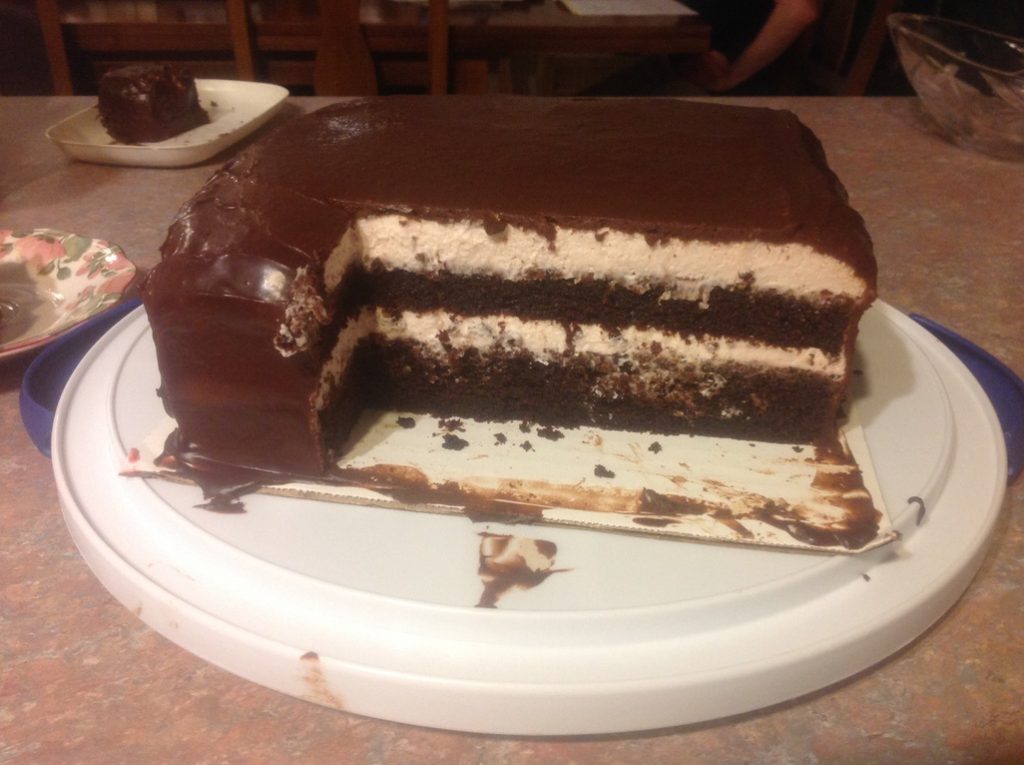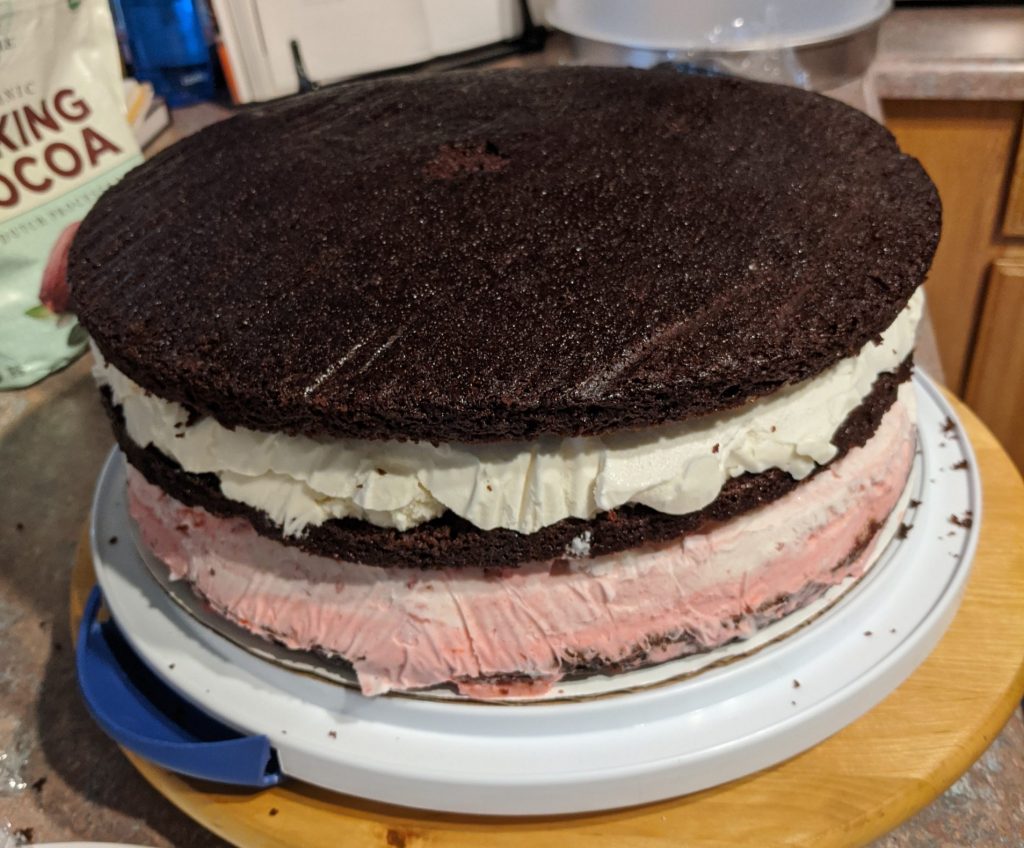 Phenomenal Chocolate Cake