---
Back when I was a young newlywed, we moved to Spokane and met another young couple and quickly became best friends. They were each a year older than us and had been married one year longer. We hit it off really well even though we were opposites in many ways. They were both tall, whereas we are not. They were early to bed and early to rise; we were not. We also had much in common. The men both worked at the same place and Heather and I worked in the same restaurant too. Both of us had our firstborn child within a month of each other. We had many good times together in the short period before they moved across the state. Sadly, we have lost touch over the years. But I will never forget the warm friendship we enjoyed.
Heather introduced me to Chicken Divan. Her recipe was very simple with some ready made ingredients. She could whip up dinner in about 15 minutes, something I have never accomplished. She wasn't one to make a meal from scratch, but I can't seem to help it. Her recipe was delicious and simple. If I ever find it again I will include it. Chicken Divan is an easy and delicious meal however you choose to make it. I especially love this recipe though because I prefer made-from-scratch.
Rotisserie chicken and fresh or frozen broccoli florets makes this very easy. Often, I double the chicken and broccoli and make 1.5 times the sauce recipe, using a larger baking dish, and plenty of cheese on top. I layer broccoli first and chicken next when I make this. This is good served with rice.
This recipe is from another favorite cookbook, Reader's Digest Down Home Cooking, The New Healthier Way. Cooked turkey may be substituted for the chicken.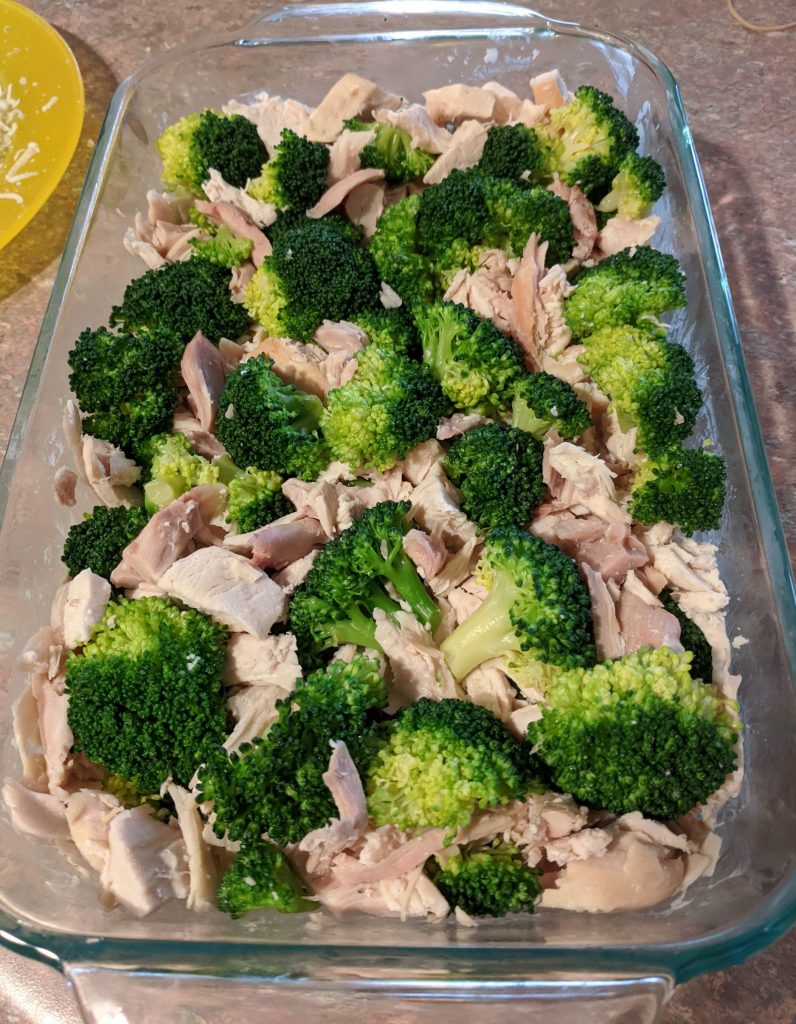 CHICKEN DIVAN
1 1/2 pounds skinned, boned, cooked, and cubed chicken
1 pound broccoli, trimmed and cut into individual spears
SAUCE:
2 cups milk
1 cup chicken stock or broth
2 tablespoons sour cream
3 tablespoons cornstarch
2 tablespoons grated Parmesan cheese
2 tablespoons dry sherry or chicken stock
1 teaspoon Dijon mustard
1/2 teaspoon salt
1/8 teaspoon nutmeg
1/8 teaspoon ground red pepper (cayenne)
1 – 2 cups shredded Cheddar cheese
2 tablespoons plain dry bread crumbs, optional
Preheat oven to 375° F. Lightly grease a 2-quart au gratin or other shallow baking dish. Arrange the chicken in the dish.
Half-fill a large saucepan with cold water and bring to a boil over high heat. Add the broccoli and cook, uncovered, for 2 minutes and no longer. Drain. Arrange in a single layer on top of the chicken.
In a medium saucepan, bring the milk and stock to a simmer over moderate heat. In a small bowl, whisk together the sour cream, cornstarch, Parmesan cheese, sherry, mustard, salt, nutmeg, and cayenne. Whisk into the broth mixture and simmer, uncovered, for 5 minutes or until slightly thickened, stirring constantly. Pour the sauce over the chicken and broccoli. Sprinkle the Cheddar cheese and bread crumbs over the top. (I make sure there it is completely covered with cheese.)
Bake, uncovered for 20 to 25 minutes or until hot and bubbly. Makes 6 servings.