---
Homemade ice cream is too good and too easy, but it is possible to use an ice cream machine for healthier treats. This recipe is sweetened with date paste. Date milkshakes are a delightful treat at roadside stands in date country. We first tried them at a stop in Dateland, AZ on our way to San Diego. This ice cream is healthier and tastier and much less expensive than you will get at the tourist trap. Instructions for making your own date paste follow.
I added a little honey because I thought it needed to be a little sweeter. With ice cream base, it needs to be just slightly sweeter than you like because the freezing process leaves it a little less sweet. I don't know why that is. But you can taste the base when you finish mixing it before chilling and see if it suits your taste.
For a dairy-free version, substitute canned coconut milk or coconut cream (not sweetened cream of coconut) for the heavy cream and substitute almond milk for dairy milk. It will work with your favorite plant-based milk too.
I like the flavor of coffee added to this ice cream, but it is optional. Next time I make it I will add a couple tablespoons of cocoa to make it a mocha date ice cream. Feel free to try that.
DATE ICE CREAM
1 1/4 cups heavy cream or canned coconut milk
3/4 cup date paste (see Note)
2 or 3 tablespoons honey or maple syrup, optional
1 teaspoon vanilla
1/2 teaspoon almond extract
1 or 2 tablespoons instant coffee or espresso granules
1 tablespoon Kahlua or rum or vodka
enough milk to bring to four cups liquid (dairy or plant-based)
In a quart-sized measuring cup, mix cream, date paste, optional honey, extracts, instant coffee, and alcohol together until blended. Add enough milk to come to the four-cup line and blend well. Chill a few hours or up to two days.
Follow manufacturer's directions for how to make ice cream in your machine. Mine is electric and takes about 15-20 minutes to freeze to the proper consistency. Serve immediately or freeze for at least two hours.
NOTE: Date Paste – Stuff a large glass jar full with pitted whole (not pre-chopped) dates and then fill jar with hot water. Store overnight to soften dates. Using a food processor or blender, process dates and soaking water until blended as smooth as possible. Store back in jar in refrigerator for up to a month.
Medjool dates are the most flavorful but Deglet work well too. Or, try with any kind of dates that you prefer and have available. Pitted dates often have random pits. I diligently check for them but one always seems to escape notice. Whole pits often fall to the bottom of the food processor and you can carefully pick it out.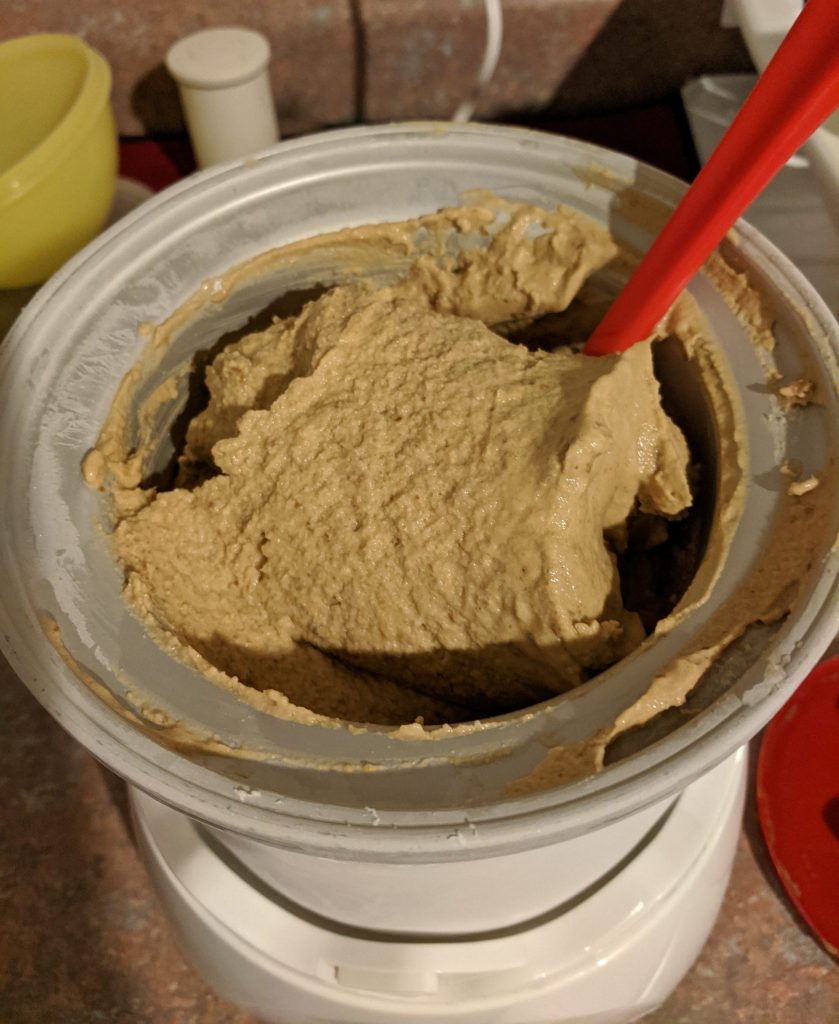 Sugar-Free Date Coffee Ice Cream with Dairy-Free Version