---
These may be the best oatmeal cookies ever! There is nothing boring about these cookies. Flavorful, crispy, and addictive describes them well. This makes a large batch of cookies, but that should not be a problem. You can spread joy by sharing or freeze extras. I like to make these to send to Colorado for family and friends because they hold up very well for a few days. Most cookies dry out quickly but these stay fresh much longer. The recipe comes from a favorite cookbook author, Marcia Adams, and her book Cooking from Quilt Country.
It is usually best to allow cookie dough to rest in the refrigerator overnight before baking.
OATMEAL CINNAMON CRISPIES
2 1/2 cups butter, softened (5 sticks)
5 cups granulated sugar
1/3 cup dark molasses
4 eggs
1 1/3 tablespoons baking powder (4 teaspoons)
1 teaspoon baking soda
1 teaspoon salt
1 tablespoon ground cinnamon
1 tablespoon vanilla extract
4 1/3 cups all-purpose flour
4 3/4 cups old-fashioned rolled oats (not instant)
2 cups finely chopped pecans
Preheat oven to 375 degrees F. Grease two baking sheets or prepare parchment paper for baking sheets. In a large mixing bowl, cream the butter. Add the sugar gradually, then the molasses, and beat until the mixture is light and fluffy. Beat in the eggs, one at a time. Shut off the mixer and add the baking powder and soda, salt, cinnamon and vanilla to the batter. Turn the beater back on and blend.
Add the flour and blend. Last, add the oats and nuts and blend. Drop by rounded teaspoonfuls onto the baking sheets. Bake for 5 to 9 minutes, or until the cookies are medium brown and a bit crinkly looking. It may be necessary to turn the cookie sheets around in the oven so they will brown evenly. Allow the cookies to set on the sheets for about three minutes, then remove to a wire rack and let cool completely.
Makes about 100 2 1/2-inch cookies. These freeze very well. Or, freeze balls of cookie dough to bake smaller batches.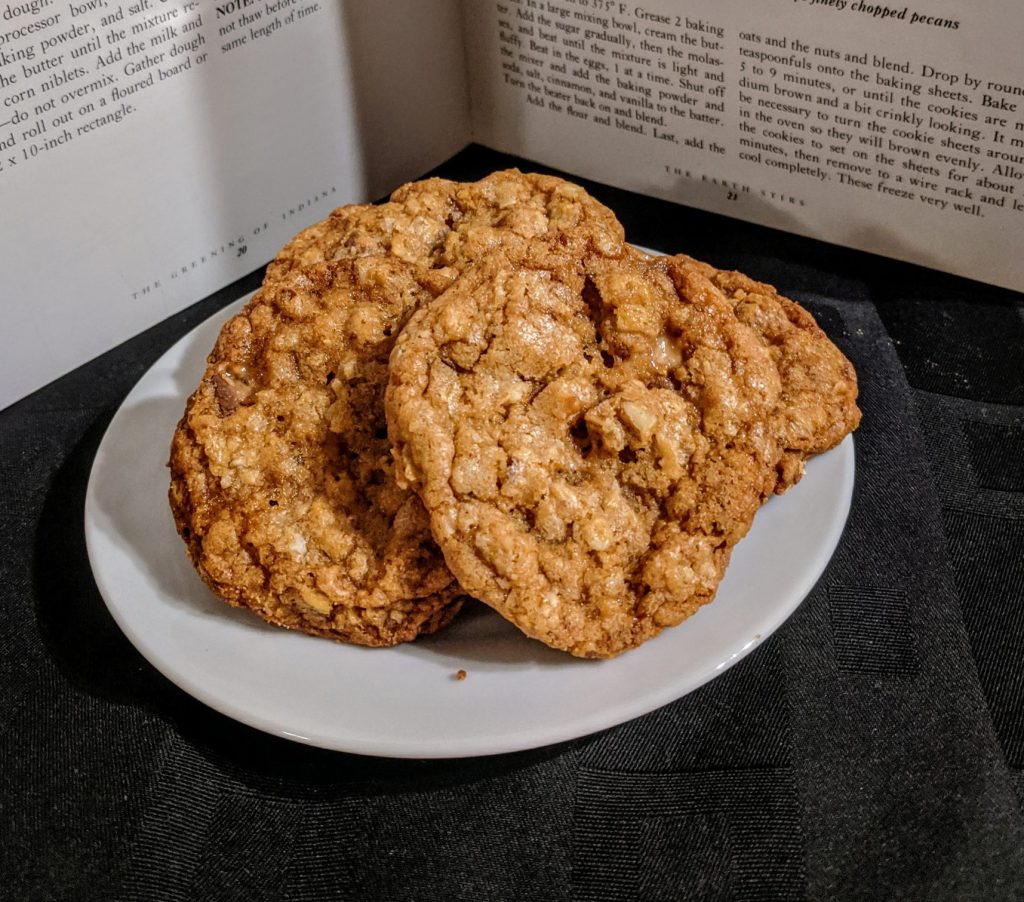 Scrumptious Oatmeal Cinnamon Cookies