---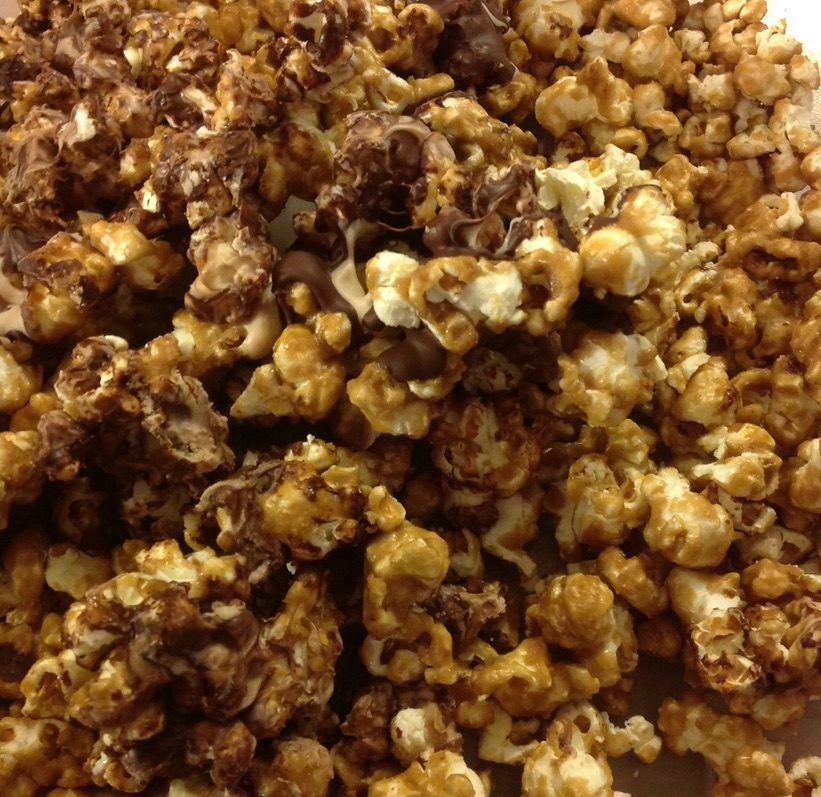 I have been making this caramel corn recipe for twenty years now.  I rarely make it anymore, partly because it is so addictive.  If you want to make anyone very happy, make this for them!  I made caramel corn for Grant when he won an extra special Student of the Month and drizzled dark and white chocolate on top.  Really, though, we like it best just plain.
The recipe is from a wonderful cookbook that I used to regularly check out of the local library in Utah.  I finally bought the book since I liked it so much.  It is Better Homes and Gardens America's Best-Loved Community Recipes.  There are similar recipes out there but the baking soda is imperative.  Without the baking soda the caramel would lack a smooth creaminess.  An acquaintance forgot the baking soda one time and it felt like the caramel corn was sharp.  When you add the vanilla and baking soda, it bubbles up, but just give it a second and stir thoroughly.
Make sure everything is ready when you begin the caramel syrup.  Have the popcorn popped and measured into the roasting pan.  I always butter the pan but I do not know if that is really necessary.  Next time I make this, I will pop the popcorn on the stove rather than in the air popper.  But it has always been fabulous popped in the air popper.  The recipe suggests using a 2-quart saucepan to assure the syrup will be just the right temperature and consistency after five minutes of boiling.  If you find the caramel corn crunchier than you prefer, bake it for less time or at a slightly lower temperature until you find exactly the crunch you like.
CARAMEL CORN
6 quarts popped corn (no salt or butter)
1 cup butter
2 cups packed brown sugar
1/2 cup light corn syrup
1/2 teaspoon salt
1/2 teaspoon baking soda
1 teaspoon vanilla extract
Preheat oven to 250° F.  Put the popcorn in a 17x12x2-inch roasting pan or large foil pan; set aside.
Melt the butter in a medium saucepan over medium heat.  Add the brown sugar, corn syrup and salt.  Stir until the mixture starts to boil.  (The syrup should boil over its entire surface.)  Boil for 5 minutes without stirring.
Remove from heat.  Stir in the baking soda and vanilla.  Quickly pour the caramel mixture over the popped corn and stir to coat.  If it gets too cooled and hard to stir enough to coat all the popcorn, put it in the oven for five minutes and then stir again.
Bake, uncovered, in the oven for 1 hour, stirring every 15 minutes.
Remove the caramel corn from the oven and spread it out on a large piece of foil to cool.  Break into clusters if necessary.  Store in an airtight container for up to a week.
Makes 22 cups.