---
This is a super quick but delicious bar cookie.  I use preserves, jam or fruit spread for the fruit filling.  The original recipe is from Better Homes and Gardens.  That recipe has three choices of fruit fillings that can be prepared but I do not think I have made one of those fillings in the last fifteen years.  It is just so much easier to use a jar of preserves and it tastes just as good.
I often double this recipe and bake in a 9×13-inch pan.  If I use a metal pan, I do not want to scratch it when cutting the bars, so I line the pan with parchment paper and pull out the entire thing and then cut it up.
FRUIT-FILLED OATMEAL BARS
1 cup all-purpose flour (130 grams)
1 cup quick oats (89 grams)
2/3 cup packed brown sugar (142 grams)
1/4 teaspoon baking soda
1/2 cup butter (if using unsalted butter, add a dash of salt)
10 ounces preserves, jam or fruit spread
Combine flour, oats, brown sugar, and baking soda in a mixing bowl.  Cut in butter until mixture resembles coarse crumbs.  Reserve 1/2 cup of the flour mixture.  Press remaining flour mixture into the bottom of an ungreased 9x9x2-inch baking pan.  Spread with fruit filling.  Sprinkle reserved flour mixture evenly over the top.
Bake at 350°F. for 30 to 35 minutes or until the top is golden.  Cool in the pan on a wire rack.  Cut into bars.  Leftovers may be left at room temperature for a couple days and then refrigerate.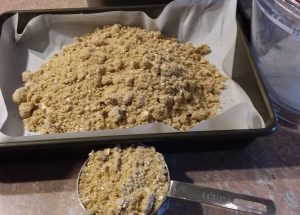 Fruit-Filled Oatmeal Bars